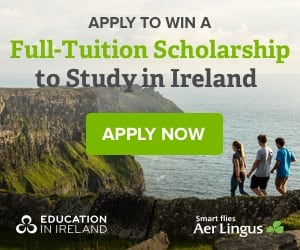 GoOverseas together with Education in Ireland and Aer Lingus, are offering 15 full-tuition undergraduate scholarships for study abroad in Ireland and two free roundtrip flights! FIE Dublin programs at Trinity College Dublin and University College Dublin for Fall 2017 and Spring 2018 are eligible. Application deadline is March 17, 2017!
GoOVerseas and Education Ireland Full-Tuition Scholarship
FIE's Irish education partners, Trinity College Dublin (TCD) and University College Dublin (UCD), are eligible for the GoOverseas and Education Ireland full-tuition scholarship. The scholarship covers the cost of tuition at either institution.
Choose 'FIE' as an option on the scholarship application form, available on the GoOverseas scholarship web page.
Aer Lingus is also offering two lucky winners round-trip flights to Ireland.
Application deadline: March 17, 2017
Best of luck!