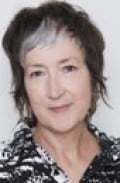 Brenda is originally from Australia but has been long resident in London. She has a career-long interest in all forms of the media and is a keen observer of the many changes in the media industries.
Before teaching, Brenda was an independent television producer for over 20 years. After an early and acclaimed career in music and arts television, she moved into documentaries and current affairs. Amongst her production credits are BBC's Landmark series 'Video Nation', and being Supervising Producer on the world's largest ever documentary Outside Broadcast, the Kumbh Mela Hindu festival for Channel 4.
Brenda has produced programs for major British broadcasters: including the BBC, Channel 4, Channel 5, and SKY. In addition, she has produced for the global broadcasters CNN, Al Jazeera English and BBC World News. Brenda and her company Uncommon Media also work as media advisers to a number of international activist, NGO, intergovernmental, EU and UN organizations.
Before working in television, Brenda worked for the groundbreaking public radio channel 3RRR in Australia, and in the British independent music business as a writer and publisher.