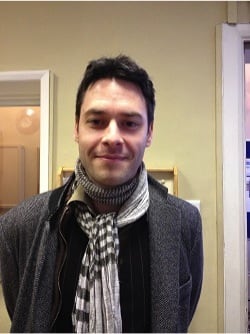 Adam de la Cour is a composer, performer and teacher. He is fundamentally interested in experimentation, absurdity, and collecting, reassembling and sculpting found musical materials. He has taught across the south east for fourteen years, giving lessons and workshops in Experimental music, Jazz, Rock, graphic notation, guitar and vocals.
He performs and writes music with/for Ensemble + -, Zipperface, ARCO, Nostrilatu, Gastro, The Bishop of X*** and Mowgli and has been broadcast on Resonance FM and BBC Radio 3, as well as premiering works by Michael Finnissy, Chris Newman and artist Bruce Mclean.
He has exhibited work (graphic scores) at spaces such as the Institute of Contemporary Arts, the Southampton Art vaults and The Centre for Recent Drawing, and is a founding member of squib-box, a cooperative and netlabel dedicated to the production and dissemination of radical and avant-garde music, regardless of its genre.