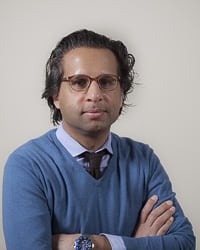 Faissal Hameed is Academic Faculty Director and a Lecturer in Middle Eastern History and Politics at FIE. He has a BA (Hons) in the History and Politics of the Middle East and an MA in African/Asian History from the School of Oriental and African Studies, University of London and a PhD in the Politics of Islamic Revivalism in South Asia from the University of Birmingham.
Faissal has over 15 years' experience of productive Higher Education involvement with a demonstrable record of model leadership, administration, teaching, research and scholarship evidenced by a dedication to student achievement and satisfaction. His work experience to date is committed to enhancing cross-cultural and global competency-based student skills development in multi-ethnic and multi-faceted learning environments.
Faissal's academic specialisation is in the fields of the modern history of the Middle East and Islamic societies and in contemporary Islam and its relations to politics in the Muslim world. He has offered seminars at various national and international fora and has taught at the University of Birmingham and Richmond, the American International University in London.
Previously Faissal served as Course Convenor at FIE; Academic Coordinator and Senior Lecturer at the Muslim College, London; and Programme Director at Birkbeck, University of London. His research interests focus on South Asian history with special reference to the politics of Islamic identity in Pakistan. He is a Fellow of the Higher Education Academy and has co-edited a book titled 'Confronting anti-Semitism and Islamophobia'.
Faissal has travelled, and taught, in the Middle East, South and South-East Asia and the Far East, and is therefore able to bring a personal insight to his work in the field of international education. He has helped to develop creative learning environments at FIE where an understanding of the privileges and responsibilities of international education is encouraged.

Politics and Religion, Sociology